VACUUM TEST AND STORAGE CHAMBERS

Universal Application Low Pressure Testing and Processing Chambers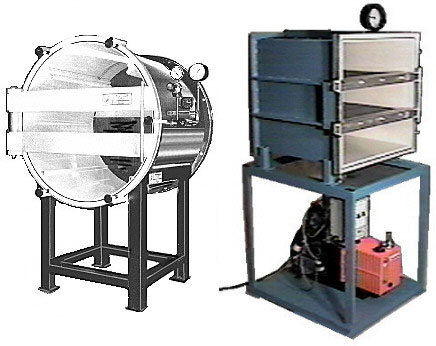 | | |
| --- | --- |
| Model R43 Altitude Test Chamber | Model S222-SE |
INTRODUCTION
TEK-VAC Industries offers series of general purpose vacuum test chambers, customarily fitted with accessories specified by our customers. Our line of standard chambers offers options such as; cylindrical or rectangular shape, ranges in dimensional sizes, and construction material of the test chamber. A myriad of common accessories are offered for these testing chambers.
Common applications include: altitude testing chambers, impregnation process chambers, inert gas storage, degassing, deaeration, as well as a widespread variety of general vacuum testing operations.
Typically, these vacuum chambers consist of the following features: Stainless steel, ASTM A36 steel with epoxy finish, or aluminum construction material. The front door is fully opening for uninhibited access into the compartment. Optimal visibility with use of reinforced Lexan glass front door and rear window. Feedthrough port openings for various power, instrumentation, liquid and motion feedthrough options. Option for internal lighting and side rails to support shelving.

Chambers designated for specific purposes, such as for an altitude test chamber, may offer some unique options. An example is our design for a digital readout with interior vacuum measurement with the corresponding altitude of that pressure.
Please contact our sales department with any questions or requirements which you may have so that we can work with you to customize an assembly to obtain the optimal system for your applications.