PDS-6000 CLUSTER TOOL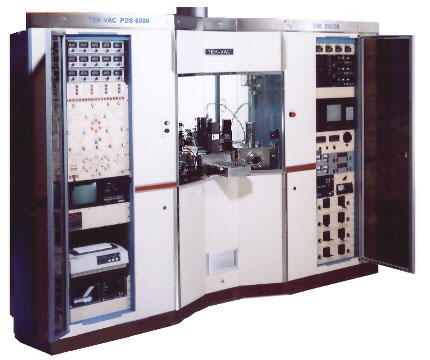 Loadlocks and Process Chambers
are in EXCELLENT CONDITION
Tek-Vac recently re-acquired one 4 process chamber cluster system capable of 6" square substrates. Specifications for this system may be referenced in our products listing.
System utilized for P.I.N. device fabrication and was offered to Tek-Vac in order to offset costs of a larger wafer capable PECVD system manufactured by us.
Features:
Safety Enclosures. Cleanroom wall interface. Single wafer loadlock (external from cleanroom). Second Central Loadlock containing fully programmed Brooks VT-5 robot. Radial configuration. Separate mechanical pump cart, gas distribution box, and two electronics consoles supporting the control panel and instumentation.
4 process chambers, 6" square substrate processing:
| | |
| --- | --- |
| Intrinsic Silicon Deposition | N-Type Silicon Deposition |
| Etch | P-Type Silicon Deposition |
A few components have been removed and are required for full operation.
Contact Tek-Vac for pricing and availability.